Send Inquiry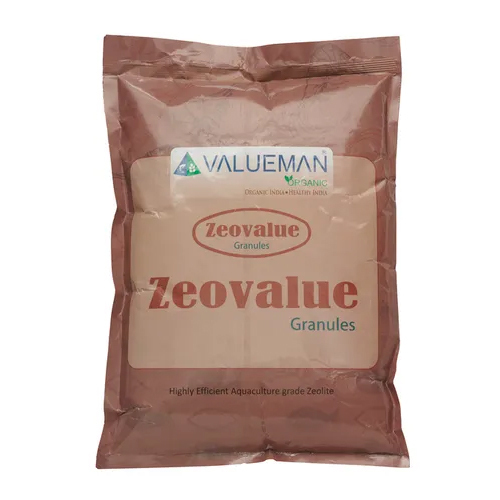 Product Description
Zeovalue is a Highly Efficient Aquaculture grade Zeolite.
Application: For pond preparation : 50 kgs or more per Ha
During Culture : Minimum 15-20 kgs or more per Ha
Important : Dosage and time can be adjusted based on prevailing culture conditions or as advised by your aquaculture consultant.
Advantages:
Purifies Water : Absorbs H2S (Hydrogen Sulphide), NH3 (Ammonia) and other toxic gases from water.
Cleans Pond Bottom: Absorbs bacteria, suspended solids, waste and dirty material.
Increases D.O. :Helps to increase the amount of Dissolved Oxygen in the pond bottom.
Helps in reproduction of plankton: Because of improved water quality and special nutrients, it helps in better growth and reproduction of plankton.
Improves water quality: With its high CEC improves water quality by adjusting the pH value of the water.
Advantages:
Removes bad odour: Absorbs bad odour from water and pond bottom and develops a healthy environment for the prawns/fishes to grow.
Enter Buying Requirement Details
Other Products in 'Formulation' category